Driving
When driving in Mykonos always keep the right side of the road. | Follow speed limits and Stop at all Stop signs. | When entering a roundabout always Stop and give priority. | The emergency phone number across Greece is 100 or 112.| For Mykonos Police department and the Tourist Police (+30) 22890 22482. | Drive Safely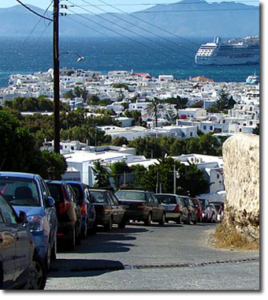 Licensing
According to the new driving regulations effective from May 1st 2018 an International Driver's Permit from your home country is mandatory when driving in Mykonos and in Greece. This must always be carried when you are driving your car hire, in addition to a driver's license issued by your home country. This directive does not apply to E.U citizens with European drivers licenses.
You can read the updated list with all the countries excluded from the directive at the United Nations website.
Minimum Driving Age
To drive in Mykonos with an Action Mykonos rental car, drivers must be at least 21 years of age. | Some rental car agencies will not rent vehicles to persons under the age of twenty-three and others will for an extra fee. | In addition, some rental car agencies will not rent vehicles to drivers over the age of seventy.
Seatbelt & Safety Helmet Restraints
When driving anywhere in Greece, all passengers must wear their seatbelts, especially the two seated in the front. | Not wearing a seatbelt is grounds for an expensive fine and bad for your personal safety. | All motorcyclists must wear safety helmets when driving.
Drinking and driving is never a good idea, period. | The maximum legal alcohol limit is 0.5mg per ml. | The police don't need 'probable cause' to stop your vehicle and breathalyzes you. They're permitted to make random stops and checks, so you could easily find yourself stopped unexpectedly | It is better to stay on the safe side and abstain from drinking alcohol if you intend to drive.
Accidents
If you happen to get into an accident with your Action Mykonos rental vehicle, do not leave the scene. |Stop the car exactly in the place where the accident took place. If this is not possible, leave a mark at the spot so that to inform the authorities for the exact location. | Do not accept any responsibility and give us a call to come help you out. | It is illegal to leave an accident without informing the police.